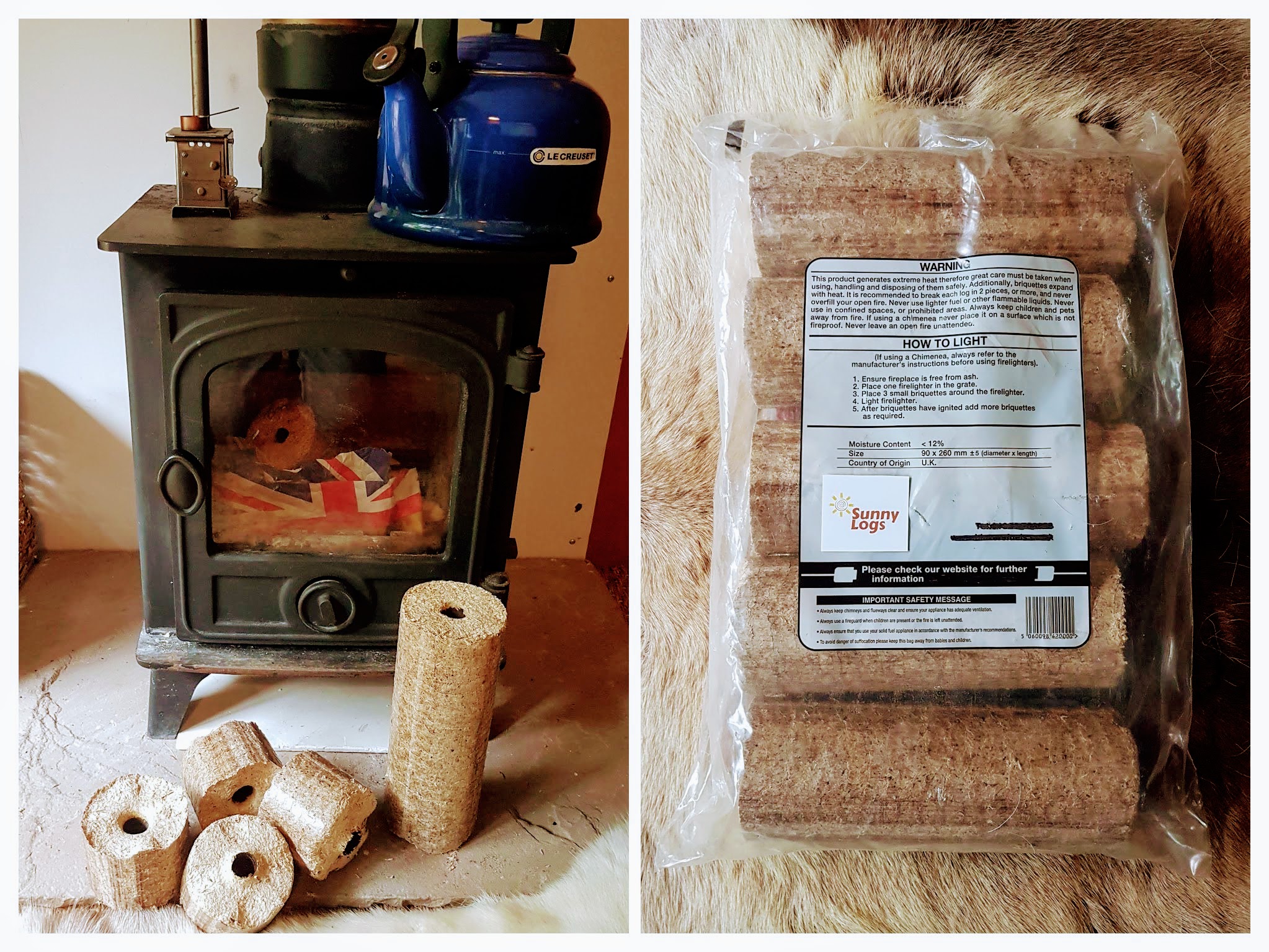 Description
A 'Sunny load' consists of 20 individual plastic bags* of Eco Logs, with a total weight of 200kg, delivered in a dumpy bag. Each individual bag weights 10kg and contains 5 Eco Logs (2kg/log). So, a load is equal to 200kg worth of Eco Logs. Total of 100 logs (2kg/each).
* While we are awaiting our supplier's paper bag machine, logs will come in plastic bags. In the meanwhile, please do recycle the individual plastic bags at a soft plastic recycling station. There is one situated at the exit at the at Tesco's on Southampton road and at Tesco's on Castle Street. .
Logs are cut into 25-26 cm length but easy to break into smaller chunks. We recommend to break one log into 2-4 chunks depending on the size of your stove. The moisture content is constant and low < 12% and certified 'Ready to Burn' to comply with the DEFRA clean air act.
The hole in the Eco logs is part of the design, it aids airflow which improves the consistent burning performance.
The Eco logs guarantees a very hot, clean and slow burn. However, you need to prepare a good kindling fire before you add them onto your stove (see Q&A). 
Eco logs, best climate smart heating option for your wood-burner!
Eco logs compared to Kiln Dried (KD) Logs
Our Eco logs are:
more compact, dry, clean and economical than KD logs
Briquettes have a high calorific value: 5,5kWh/kg (compared to 4.4-4.7kWh/kg for KD Oak)
The moisture content is <12%, and are Woodsure 'Ready to Burn certified'
Consistent in size, weight, moisture content and burn time
Easy to handle, stack and store – they need a waterproof store. 
Made from recycled waste wood from local British sawmills from sustainably managed UK FSC ® certified forests
Guaranteed to produce more heat for less money than KD logs
Manufacturing process uses their own generated renewable energy
Very low ash – ash can be used as a nutritious fertilizer 😉
Really, no brainer to try them out, you will get used to them, and love them!
Possible 'inconvenience' with Eco logs:
They need to be kept in a dry place, preferable a garage or a water-proof log store. They might not have the same lovely smell and aesthetic appearance as traditional logs…But we are sure you will get over that when you remind yourself about the environmental and burning advantages it has compared to traditional logs 😉
KINDLING
Our kindling is great quality and locally made of recycled wood! It has been split into thin pieces and has been kiln dried locally. Perfect to prepare that hot kindling fire needed to get the Eco-briquettes going! Just add bags to your order! You can choose from 1, 3 or 6 large net bags. A net weighs around 5kg.